Helpful information about the novel Coronavirus (COVID-19)
If you think you have been exposed to coronavirus disease (COVID-19) and you have a fever and respiratory illness (cough or shortness of breath), call your doctor's office or local public health department for further direction.
Information about COVID-19
COVID-19 is believed to spread mainly from person-to-person, specifically between people that have close contact with one another. The virus is thought to spread through respiratory droplets when an infected person coughs or sneezes. The droplets are believed to live on surfaces for up to three days during which further transmission and spread of infection can occur. This is why use of disinfectants on surfaces are encouraged.
Symptoms of COVID-19 include fever, cough and difficulty breathing. A health care provider can give you instructions for seeking care, including options for testing, while minimizing the risk of exposing others.
Across the world, new cases of COVID-19 are being reported, and the U.S. has declared a national emergency. The U. S. urges Americans to practice self quarantine and social distancing to decrease the rate of transmission. We continue to follow established infection prevention protocols and remain prepared to care for patients. We have protocols in place and taking extra measures as safety is our number one priority. We continue to train our staff by practicing for these scenarios. We are monitoring this issue closely and taking all necessary precautions to ensure the safety of our patients, staff, visitors, and community.
You can protect yourself from COVID-19 infection the same ways you protect against the common cold or seasonal flu:
• Wash your hands frequently for at least 20 seconds before eating, when your hands are visibly soiled, and after you have used the bathroom, been in public or blown your nose, coughed or sneezed.
• Use hand sanitizer that contains at least 60 percent alcohol, if soap and water aren't available.
• Cover your cough and sneeze with a tissue, and throw your used tissues in the trash.
• Avoid touching your eyes, nose and mouth.
• Stay home when you are sick.
• Wear a face mask, only if you are sick or are caring for someone who is sick.
• Put some distance between yourself and others, especially if:
– Someone near you is sick
– You are at a higher risk of serious illness
– COVID-19 is spreading in your communities
• Clean and disinfect frequently touched objects and surfaces.
For more guidance, please visit the CDC website.
There are several things you should do if you are sick or think you may have been exposed to COVID-19, and have a fever or respiratory illness (cough or shortness of breath):
• Stay home if you are sick or believe you have been exposed to the virus, even if you aren't showing any symptoms.
• Avoid public areas and transportation.
• Avoid coming to the emergency department, unless you have a health emergency and/or you have been advised by your health care provider to do so. This helps prevent the risk of spreading COVID-19 infection.
• Monitor yourself for fever, coughing and shortness of breath.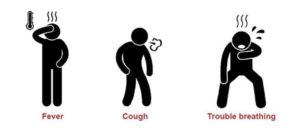 • Separate yourself from other people and animals as much as possible, while you are sick.
• Wear a face mask, if you are sick.
• Take the same precautions you would if you had the common cold or flu (e.g., wash your hands frequently).
For more guidance, please visit the CDC website.
The CDC has the most current information about the virus and is routinely updating its online resources.
You can also learn how California's department of public health is responding to the situation:
• Alaska
• Montana
• Oregon
• Texas