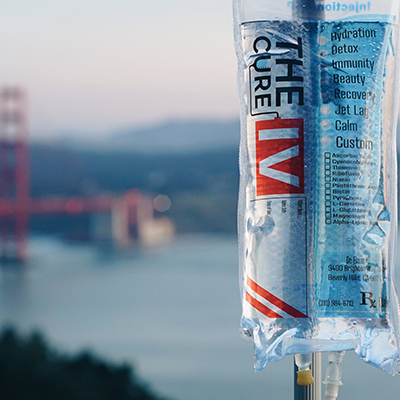 Privacy Policy
Beverly Hills Concierge Doctor // The Cure IV and third party service providers ("Company," "we," "our," or "us") is committed to protecting your privacy.  This Privacy Policy explains how your personal information is collected, used and disclosed by the Company. This Privacy Policy applies to our website, www.thecureiv.com, and mobile application for iPhone, Windows or Android mobile devices (collectively, our "Service"). By accessing or using our Service, you signify that you have read, understood and agree to our collection, storage, use and disclosure of your personal information as described in this Privacy Policy and our Terms of Service.
What information do we collect and for what purpose?
The categories of information we collect can include: Information you provide to us directly.  We may collect personal information, such as your name, email address, phone number, date of birth, gender, zip code and location, services and procedures about which you inquire, identification (e.g., a photo of your government-issued ID) or other authentication information, and payment information, when you register for or use our Service, build a profile on our Service, sign up for our mailing list, request an appointment with a medical service provider, or otherwise communicate with us.  The supply of such information to the Company is at your discretion. We may also collect any communications between you and Company and any other information you provide to Company. Data collected through the use of the Service.  We collect information about how you use the Service, your actions on the Service, and content you post to the Service, and any content you provide through the Service ("User Content").  Please remember that Company may, but has no obligation to, monitor, record, and store User Content in order to protect your safety or the safety of other users, to assist with regulatory or law enforcement efforts, or to protect and defend our rights and property. By using the Service, you consent to the recording, storage and disclosure of such communications you send or receive for these purposes. Information we receive from third party sites you connect to our Service.  We may receive personal information about you from third parties and combine that with information we collect through our Service. For example, we may obtain information when you login through a third party social network or authentication service, such as Facebook or Google. These services will authenticate your identity and provide you the option to share certain personal information with us, which could include your name, email address, address book and contacts, or other information. Similarly, when you interact with us through a social media site or third party service, such as when you like, follow or share Company content on Facebook, Twitter, Pinterest, Instagram or other sites, we may receive information from the social network including your profile information, picture, user ID associated with your social media account, and any other information you permit the social network to share with third parties. The data we receive from these third party sites is dependent upon that third party's policies and your privacy settings on that third party site. You should always review, and if necessary, adjust your privacy settings on third party websites and services before linking or connecting them to our Service. Location Information. We collect information about your location through GPS, WiFi, wireless network triangulation or other methods in order to obtain your location for the purposes of providing our Service. We may also approximate your location by your IP Address. We also use the Google Maps API to gather information about your location. Google uses various technologies to determine your location, including IP address, GPs and other sensors that may, for example, provide Google with information on nearby devices, WiFi access points and cell towers (see Google Maps' privacy policy to learn more). We maintain location information only so long as it is reasonable to provide the Service and then delete location data tied to your personal information. We may maintain de-identified location data for a longer period of time in order to analyze aggregate trends and metrics. We use this information to operate, maintain, and provide to you the features and functionality of the Service; to process and complete transactions that you request on the Service; to verify your identity; to monitor and analyze Service usage and trends; as well as to request feedback or communicate directly with you, such as to send you email messages and push notifications, and permit you to communicate with others on the Service.  We may also send you Service-related emails or messages (e.g., account verification, change or updates to features of the Service, technical and security notices). For more information about your communication preferences, see "Control Over Your Information" below.
HOW WE USE COOKIES AND OTHER TRACKING TECHNOLOGY TO COLLECT INFORMATION
We, and our third party partners, automatically collect certain types of usage information when you visit our Service, read our emails, or otherwise engage with us. We typically collect this information through a variety of tracking technologies, including cookies, web beacons, embedded scripts, location-identifying technologies, file information and similar technology (collectively, "tracking technologies").  For example, we collect information about your device and its software, such as your IP address, browser type, Internet service provider, platform type, device type, operating system, date and time stamp, a unique ID that allows us to uniquely identify your browser, mobile device or your account, and other such information. We also collect information about the way you use our Service, for example, the site from which you came and the site to which you are going when you leave our website, the pages you visit, the links you click, how frequently you access the Service, whether you open emails or click the links contained in emails, whether you access the Service from multiple devices, and other actions you take on the Service. When you access our Service from a mobile device, we may collect unique identification numbers associated with your device or our mobile application mobile carrier, device type, model and manufacturer, mobile device operating system brand and model, phone number, and depending on your mobile device settings, your geographical location data, including GPS coordinates (e.g., latitude and/or longitude) or similar information regarding the location of your mobile device, or we may be able to approximate a device's location by analyzing other information, like an IP address.  We may collect analytics data, or use third-party analytics tools such as Google Analytics, to help us measure traffic and usage trends for the Service and to understand more about the demographics of our users. You can learn more about Google's practices at http://www.google.com/policies/privacy/partners, and view its currently available opt-out options at https://tools.google.com/dlpage/gaoptout. Although we do our best to honor the privacy preferences of our users, we are unable to respond to Do Not Track signals set by your browser at this time. We use or may use the data collected through tracking technologies to:  (a) remember information so that you will not have to re-enter it during your visit or the next time you visit the Service; (b) provide custom, personalized content and information; (c) provide and monitor the effectiveness of our Service; (d) monitor aggregate metrics such as total number of visitors, traffic, usage, and demographic patterns on our Service; (e) diagnose or fix technology problems; and (f) otherwise to plan for and enhance our Service. If you would prefer not to accept cookies, most browsers will allow you to: (i) change your browser settings to notify you when you receive a cookie, which lets you choose whether or not to accept it; (ii) disable existing cookies; or (iii) set your browser to automatically reject cookies.  Please note that doing so may negatively impact your experience using the Service, as some features and services on our Service may not work properly. Depending on your mobile device and operating system, you may not be able to delete or block all cookies. You may also set your email options to prevent the automatic downloading of images that may contain technologies that would allow us to know whether you have accessed your email and performed certain functions with it.
The Cure IV facilitates mobile wellness services to help individuals reach their optimum health. We specialize in custom IV Infusion Therapy and Vitamin Boosts.
We recognize that visiting the doctor can be both time consuming and stressful. That's why our network of providers are able to help you over the phone and in the comfort of your home! Our dedicated network of healthcare professionals are committed to providing everyone with the best possible experience. Our network consists of qualified medical practitioners who are licensed and insured: Doctors, Physician's Assistants, Nurse Practitioners, and Registered Nurses. We honor your discretion and look forward to taking care of you!
Sharing of your information
We may share your personal information in the instances described below.  For further information on your choices regarding your information, see the "Control Over Your Information" section below. Our Service is compliant with HIPAA, and as such we will never share protected health information without your explicit consent or request, unless otherwise required by law. Please refer to the HIPAA section, "Notice of Privacy Practices specific to HIPAA and PHI", below for further information. We may share your personal information, excluding any PHI covered under HIPAA, with: Third parties at your request.  For example, you may have the option to share your activities on the Service with your friends through email, text or on various social media sites; Other companies and brands owned or controlled by Company, including but not limited to other companies owned by or under common ownership as Company, which also includes our subsidiaries (i.e., any organization we own or control) or our ultimate holding company (i.e., any organization that owns or controls us) and any subsidiaries it owns.  These companies will use your personal information in the same way as we can under this Privacy Policy; Third-party vendors and other service providers that perform services on our behalf, as needed to carry out their work for us, which may include processing payments, providing mailing services, providing tax and accounting services, web hosting, or providing analytic services; The public when you provide feedback or User Content on our Service. For example, if you post User Content on our blog or comment on our social media sites, your information, such as your username and your comments, may be displayed on our website or on our social media pages; Other parties in connection with a company transaction, such as a merger, sale of company assets or shares, reorganization, financing, change of control or acquisition of all or a portion of our business by another company or third party, or in the event of a bankruptcy or related or similar proceedings; and Third parties as required by law or subpoena or if we reasonably believe that such action is necessary to (a) comply with the law and the reasonable requests of law enforcement; (b) to enforce our Terms of Service or to protect the security or integrity of our Service; and/or (c) to exercise or protect the rights, property, or personal safety of Company, our visitors, or others. We may also share information with others in an aggregated or otherwise anonymized form that does not identify you as an individual as defined by HIPAA.
IV therapy works fast to rejuvenate your body and provide enormous health benefits. Whether you're looking for a quick immune system boost or relief from chronic pain and diseases, there's no waiting for medications to filter through your digestive system. Intravenous Nutritional Therapy aids to enhance immune support, mood support, brain function, energy levels and better overall health and wellbeing. But you may be asking yourself, why an IV?
CONTROL OVER YOUR INFORMATION
Profile and Data Sharing Settings.  You may update your profile information, such as your username, and may change some of your data sharing preferences by visiting "Edit Profile" in your account. Access to your Device Information.  You may control the Service's access to your device information through your "Settings" app on your device. For instance, you can withdraw permission for the app to access your location, photo stream and camera. How to control your communications preferences:  You can stop receiving promotional email communications from us by clicking on the "unsubscribe link" provided in such communications.  We make every effort to promptly process all unsubscribe requests. You may not opt out of service-related communications (e.g., account verification, transactional communications, changes/updates to features of the Service, technical and security notices). Modifying or deleting your information:  If you have any questions about reviewing, modifying, or deleting your information, or if you want to remove your name or comments from our website or publicly displayed content, you can contact us directly at [email protected]. We may not be able to modify or delete your information in all circumstances.
HOW WE STORE AND PROTECT YOUR INFORMATION
Data storage and transfer:  Your information collected through our website may be stored and processed in the United States or any other country in which Company or its affiliates or service providers maintain facilities.  If you are located in the European Union or other regions with laws governing data collection and use that may differ from U.S. law, please note that we may transfer information, including personal information, to a country and jurisdiction that does not have the same data protection laws as your jurisdiction, and you consent to the transfer of information to the U.S. or any other country in which the Company or its parent, subsidiaries, affiliates, or service providers maintain facilities and the use and disclosure of information about you as described in this Privacy Policy. Keeping your information safe:  We care about the security of your information and employ physical, administrative, and technological safeguards designed to preserve the integrity and security of all information collected through our website.  However, no security system is impenetrable and we cannot guarantee the security of our systems 100%. In the event that any information under our control is compromised as a result of a breach of security, we will take reasonable steps to investigate the situation and, where appropriate, notify those individuals whose information may have been compromised and take other steps, in accordance with any applicable laws and regulations. All storage of PHI is in compliance with HIPAA.
CHILDREN'S PRIVACY
Company does not knowingly collect or solicit any information from anyone under the age of 18 on this Service.  In the event that we learn that we have inadvertently collected personal information from a child under age 18, we will delete that information as quickly as possible.  If you believe that we might have any information from a child under 18, please contact us at [email protected]
LINKS TO OTHER WEBSITES AND SERVICES
The Service may contain links to and from third party websites of our business partners, advertisers, and social media sites and our users may post links to third party websites.  If you follow a link to any of these websites, please note that these websites have their own privacy policies and that we do not accept any responsibility or liability for their policies.  We strongly recommend that you read their privacy policies and terms and conditions of use to understand how they collect, use, and share information. We are not responsible for the privacy practices or the content on the websites of third party sites.
HOW TO CONTACT US
If you have any questions about this Privacy Policy or the website, please contact us at [email protected]
CHANGES TO OUR PRIVACY POLICY
We may modify or update this Privacy Policy from time to time to reflect the changes in our business and practices, and so you should review this page periodically.  When we change the policy in a material manner we will let you know and update the 'last modified' date at the bottom of this page. If you object to any changes, you may close your account. Continuing to use our Service after we publish changes to this Privacy Policy means that you are consenting to the changes.
MOBILE DEVICE
We may from time to time make available mobile apps that permit the Service to be accessed and operated through smart phones or other mobile devices.  The Service is licensed, not sold, to you for use only under these Terms. This license does not allow you to use the Service on any mobile device that you do not own or control, and you may not distribute or make the Service available over a network, or where it could be used by multiple devices at the same time.  The Terms will govern any upgrades provided by us that replace and/or supplement the original version of the Service, unless such upgrade is accompanied by a separate license designated by us, in which case the terms of that separate license will govern. We do not guarantee that the Service will be available for, or function in connection with, all smart phones or mobile devices. Device Providers. If you download the Service from the iTunes® or Apple®Store for use with your Apple Inc. ("Apple") mobile device ("Apple Mobile App") or from Google Play® or Google, Inc. ("Google" and together with Apple, the "Device Providers") for use with your Android® mobile device ("Android Mobile App" and together with Apple Mobile App, the "Mobile Apps"):   You acknowledge that these Terms are concluded between you and Beverly Hills Concierge Doctor // The Cure IV and third party service providers only, and not with the Device Providers, and that Beverly Hills Concierge Doctor // The Cure IV and third party service providers, not the Device Providers, is solely responsible for the Mobile Apps and the content thereof; You agree to the applicable Device Providers' terms of use or service and you will only use the Mobile Apps solely as permitted by the usage rules set forth in the applicable terms of use or service, which you acknowledge you have had the opportunity to review; provided, however, that if these Terms include more restrictive terms than the Device Providers' terms of use or service, then such more restrictive terms will supersede the conflicting terms; You acknowledge that the Device Providers have no obligation whatsoever to furnish any maintenance and support services with respect to the Mobile Apps; In the event of any failure of any Mobile Apps to conform to any applicable warranty, you may notify Apple or Google, and they may refund you the purchase price (if any) for the Mobile Apps and that, to the maximum extent permitted by applicable law, the Device Providers will have no other warranty obligation whatsoever with respect to the Mobile Apps, and any other claims, losses, liabilities, damages, costs or expenses attributable to any failure to conform to any warranty will be The Cure IV sole responsibility (subject to the qualifications, disclaimers, and limitations set forth in these Terms); You acknowledge that (i) in the event of any third party claim that the Mobile Apps or your possession and use of the Mobile Apps infringes that third party's intellectual property rights, The Cure IV, not Apple or Google, will be solely responsible for the investigation, defense, settlement, and discharge of any such intellectual property infringement claim, and (ii) The Cure IV, not Apple or Google, is responsible for addressing any of your claims or those of any third party relating to the Mobile Apps or your possession and use of the Mobile Apps, including (A) product liability claims, (B) any claim that the Mobile Apps fail to conform to any applicable legal or regulatory requirement, and (C) claims arising under consumer protection or similar legislation, in each instance, subject to the qualifications, disclaimers, and limitations set forth in these Terms (which will not be construed in a manner that would limit The Cure IV liability beyond the extent permitted by applicable law); and You represent and warrant that (i) you are not located in a country that is subject to a U.S. Government embargo, or that has been designated by the U.S. Government as a "terrorist supporting" country; and (ii) you are not listed on any U.S. Government list of prohibited or restricted parties. Third Parties. You agree to comply with any applicable third party terms of agreement when using the Mobile Apps.  You acknowledge and agree that the Device Providers, and their subsidiaries are third party beneficiaries of these Terms, and that, upon your acceptance of these Terms, the Device Providers will have the right, and will be deemed to have accepted the right, to enforce these Terms against you as a third party beneficiary thereof.  Apple® and iTunes® are registered trademarks of Apple Inc. Google Play® and Android® are registered trademarks of Google, Inc. Data Plan. In order to use a Mobile App, you may also need to purchase an appropriate data plan from your wireless carrier and we are not responsible for overages or for actions that your wireless carrier may take against you for using data in violation of your wireless carrier's service terms.
Beverly Hills Concierge Doctor // The Cure IV and third party service providers IS NOT ENGAGED IN THE PRACTICE OF MEDICINE, DOES NOT PROVIDE MEDICAL SERVICES, AND IS NOT A HEALTH CARE PROVIDER. THE HEALTH CARE PROFESSIONAL WITH WHICH YOU ESTABLISH A TREATMENT RELATIONSHIP IS SOLELY RESPONSIBLE FOR PROVIDING YOU WITH MEDICAL SERVICES. WE ONLY ACT AS A TECHNOLOGY PLATFORM TO CONNECT YOU WITH HEALTH CARE PROFESSIONALS WHO MAY BE INTERESTED IN PROVIDING YOU WITH MEDICAL SERVICES
SOCIAL MEDIA
You must be at least 21 years old to post any content on any Social Media Site. You are prohibited from posting any content that is personal health information including patient images on any Social Media Site. You are also prohibited from using any Social Media Site to provide medical advice or medical commentary by non-physicians or to use the Social Media Site to make, recommend or increase referrals to physicians who are not employed by THE CURE IV™. By posting content to any Social Media Site, you agree that you will not: (a) violate any local, state, federal and international laws and regulations, including but not limited to copyright and intellectual property rights laws regarding any content that you send or receive via this Social Media Usage Policy; (b) impersonate any person or entity or falsely state or otherwise misrepresent your affiliation with a person or entity; (c) collect or store, or attempt to collect or store, personal data about third parties without their knowledge or consent; or (d) share confidential pricing information of any party.
NOTICE OF PRIVACY PRACTICES SPECIFIC TO HIPAA AND PHI
As required by the privacy regulations created as a result of the Health Insurance Portability and Accountability Act of 1996 (HIPAA), this notice describes how medical information about you may be used and disclosed and how you can get access to this information. Please review it carefully. Our commitment to your privacy: Our practice is dedicated to maintaining the privacy of your individually identifiable health information (also called protected health information, or PHI). In conducting our business, we will receive information and create records regarding you and the treatment and services we provide to you. We are required by law to maintain the confidentiality of health information that identifies you. We also are required by law to provide you with this notice of our legal duties and the privacy practices that we maintain in our practice concerning your PHI.  By federal and state law, we must follow the terms of the Notice of Privacy Practices that we have in effect at the time. We realize that these laws are complicated, but we must provide you with the following important information: How we may use and disclose your PHI Your privacy rights in your PHI Our obligations concerning the use and disclosure of your PHI The terms of this notice apply to all records containing your PHI that are created or retained by our practice. We reserve the right to revise or amend this Notice of Privacy Practices (the "Notice"). Any revision or amendment to the Notice will be effective for all of your records that our practice has created or maintained in the past, and for any of your records that we may create or maintain in the future. Our practice will post a copy of our current Notice on this website at all times, and you may request a copy of our most current Notice at any time. A hard copy of the Notice may be obtained by forwarding a written request to Beverly Hills Concierge Doctor // The Cure IV and third party service providers or requesting one at the time of service. Your personal information: We keep records of the medical care we provide you, and we may receive similar records from others. We use this information so that we, or other health care providers, can render quality medical care, obtain payment for services and enable us to meet our professional and legal responsibilities to operate our medical practice. We may store this information in a chart and in our computers. This information makes up your medical record. The medical record is our property; however, this notice explains how we use information about you and when we are allowed to share that information with others. Our privacy practices: We have a HIPAA Policy in place to help ensure your PHI is protected. The Medical Group not only uses traditional methods to deliver care but also cutting edge technology to help deliver quality care to our patients. It is our policy to maintain reasonable and feasible physical, electronic and process safeguards to restrict unauthorized access to and protect the availability and integrity of your health information. Our protective measures may include managed computer network systems and password protected accounts. Access to health information is only granted on a "need-to-know" basis. Once the need is established the access is limited to the minimum necessary information to accomplish the intended purpose. Our staff are required to comply with the policies and procedures designed to protect the confidentiality of your health information.  We will let you know promptly if a breach occurs that may have compromised the privacy or security of your information. Any staff member who violates our privacy policy is subject to disciplinary action. If you have questions about this Notice, please contact: [email protected] We may use and disclose your PHI in the following ways: The following categories describe the different ways in which we may use and disclose your PHI. Treatment. Our practice may use your PHI to treat you. For example, we may use your PHI in order to write an order to provide you with IV treatment. Many of the people who work for our practice – including, but not limited to, our doctors and nurses – may use or disclose your PHI in order to treat you or to assist others in your treatment. Payment. Our practice may use and disclose your PHI in order to bill and collect payment for the services and items you may receive from us. In addition, and by way of an example of disclosures for payment purposes, we may disclose your PHI to our business associates to assist in billing and collection efforts. Health care operations. Your health information may be used as necessary to review and adjust the day-to-day activities and management of Beverly Hills Concierge Doctor // The Cure IV and third party service providers. For example, information on the services you received may be used to support budgeting and financial reporting, fraud and abuse detection and compliance programs, and activities to evaluate and promote quality. We may also share your health information with other health care providers, health care clearinghouses or health plans that have a relationship with you, when they request this information to help them with their quality assessment and improvement activities, their patient-safety activities, their population-based efforts to improve health or reduce health care costs, their protocol development, case management or care-coordination activities, their review of competence, qualifications and performance of health care professionals, their training programs, their accreditation, certification or licensing activities, or their health care fraud and abuse detection and compliance efforts. We may also share your medical information with our "business associates" that perform administrative services for us. We have a written contract with each of these business associates that contains terms requiring them and their subcontractors to protect the confidentiality and security of your medical information. Appointment reminders. Our practice may use and disclose your PHI to contact you and remind you of an appointment. Treatment options. Our practice may use and disclose your PHI to inform you of potential treatment alternatives or other health-related benefits and services that may be of interest to you. Health-related benefits and services. Our practice may use and disclose your PHI to inform you of health-related benefits or services that may be of interest to you. Release of information to family/friends. Our practice may release your PHI to a friend or family member that is involved in your care, or who assists in taking care of you. However, any such disclosure will be subject to legal requirements and our HIPAA Policy. Disclosures required by law. Our practice will use and disclose your PHI when we are required to do so by federal, state or local law. F. Use and disclosure of your PHI in certain special circumstances: The following categories describe unique scenarios in which we may use or disclose your identifiable health information: Public health risks. Our practice may disclose your PHI to public health authorities that are authorized by law to collect information for the purpose of: Maintaining vital records, such as births and deaths; Reporting child abuse or neglect; Preventing or controlling disease, injury or disability; Notifying a person regarding potential exposure to a communicable disease; Notifying a person regarding a potential risk for spreading or contracting a disease or condition; Reporting reactions to drugs or problems with products or devices; Notifying individuals if a product or device they may be using has been recalled; Notifying appropriate government agency(ies) and authority(ies) regarding the potential abuse or neglect of an adult patient (including domestic violence); however, we will only disclose this information if the patient agrees or we are required or authorized by law to disclose this information; or Notifying your employer under limited circumstances related primarily to workplace injury or illness or medical surveillance. Health oversight activities. Our practice may disclose your PHI to a health oversight agency for activities authorized by law. Oversight activities can include, for example, investigations, inspections, audits, surveys, licensure and disciplinary actions; civil, administrative and criminal procedures or actions; or other activities necessary for the government to monitor government programs, compliance with civil rights laws and the health care system in general. Lawsuits and similar proceedings. Our practice may use and disclose your PHI in response to a court or administrative order, if you are involved in a lawsuit or similar proceeding. We also may disclose your PHI in response to a discovery request, subpoena or other lawful process by another party involved in the dispute, but only if we have made an effort to inform you of the request or to obtain an order protecting the information the party has requested. Law enforcement. We may release PHI if asked to do so by a law enforcement official: Regarding a crime victim in certain situations, if we are unable to obtain the person's agreement; Concerning a death we believe has resulted from criminal conduct; Regarding criminal conduct while we provide services; In response to a warrant, summons, court order, subpoena or similar legal process; To identify/locate a suspect, material witness, fugitive or missing person; or In an emergency, to report a crime (including the location or victim(s) of the crime, or the description, identity or location of the perpetrator). Deceased patients. Our practice may release PHI to a medical examiner or coroner to identify a deceased individual or to identify the cause of death. If necessary, we also may release information in order for funeral directors to perform their jobs. Organ and tissue donation. Our practice may release your PHI to organizations that handle organ, eye or tissue procurement or transplantation, including organ donation banks, as necessary to facilitate organ or tissue donation and transplantation if you are an organ donor. Research. Our practice may use and disclose your PHI for research purposes in certain limited circumstances. Serious threats to health or safety. Our practice may use and disclose your PHI when necessary to reduce or prevent a serious threat to your health and safety or the health and safety of another individual or the public. Under these circumstances, we will only make disclosures to a person or organization able to help prevent the threat. Military. Our practice may disclose your PHI if you are a member of U.S. or foreign military forces (including veterans) and if required by the appropriate authorities. National security. Our practice may disclose your PHI to federal officials for intelligence and national security activities authorized by law. We also may disclose your PHI to federal and national security activities authorized by law. We also may disclose your PHI to federal officials in order to protect the president, other officials or foreign heads of state, or to conduct investigations. Inmates. Our practice may disclose your PHI to correctional institutions or law enforcement officials if you are an inmate or under the custody of a law enforcement official. Disclosure for these purposes would be necessary: (a) for the institution to provide health care services to you, (b) for the safety and security of the institution, and/or (c) to protect your health and safety or the health and safety of other individuals. Workers' compensation. Our practice may release your PHI for workers' compensation and similar programs. Change of Ownership. In the event that our practice is sold or merged with another organization, your medical record will become the property of the new owner, although you will maintain the right to request that copies of your health information be transferred to another physician or medical group. De-Identified Data. We may use or share your PHI once it has been "de-identified." PHI is considered de-identified when it has been processed in such a way that it can no longer personally identify you. Limited Data Sets. We may also use a "limited data set" that does not contain any information that can directly identify you. This limited data set may only be used for the purposes of research, public health matters or health care operations. For example, a limited data set may include your city, county and zip code, but not your name or street address. Receiving PHI from providers, insurance entities and their business associates: We want to make you aware that, just as the Medical Group uses and discloses certain PHI in your treatment, our operations and management and certain payment practices, it is possible the Medical Group will receive PHI from other healthcare entities. Your written permission: Except as described in this Notice, or as otherwise permitted by law, we must obtain your written permission – called an authorization – prior to using or sharing health information that identifies you as an individual. If you provide an authorization and then change your mind, you may revoke your authorization in writing at any time. Once an authorization has been revoked, we will no longer use or share your health information as outlined in the authorization form; however you should be aware that we won't be able to retract a use or disclosure that was previously made in good faith based on what was then a valid authorization from you. We will also comply with state law which may have requirements beyond those contained in this notice. Your rights regarding your PHI: You have the following rights regarding the PHI that we maintain about you: Confidential communications. You have the right to request that our practice communicate with you about your health and related issues in a particular manner or at a certain location. Requesting restrictions. You have the right to request a restriction in our use or disclosure of your PHI for treatment, payment or health care operations. Additionally, you have the right to request that we restrict our disclosure of your PHI to only certain individuals involved in your care or the payment for your care, such as family members and friends. We are not required to agree to your request; however, if we do agree, we are bound by our agreement except when otherwise required by law, in emergencies or when the information is necessary to treat you. Your request must describe in a clear and concise fashion: The information you wish restricted; Whether you are requesting to limit our practice's use, disclosure or both; and/or To whom you want the limits to apply. Inspection and copies. You have the right to inspect and obtain a copy of the PHI that may be used to make decisions about you, including patient medical records and billing records, unless excluded by law. Amendment. You may ask us to amend your health information if you believe it is incorrect or incomplete, and you may request an amendment for as long as the information is kept by or for our practice. You must provide us with a reason that supports your request for amendment. Our practice will deny your request if you fail to submit your request (and the reason supporting your request) in writing. Also, we may deny your request if you ask us to amend information that is in our opinion: (a) accurate and complete; (b) not part of the PHI kept by or for the practice; (c) not part of the PHI which you would be permitted to inspect and copy; or (d) not created by our practice, unless the individual or entity that created the information is not available to amend the information. Accounting of disclosures. All of our patients have the right to request an "accounting of disclosures." An "accounting of disclosures" is a list of certain non-routine disclosures our practice has made of your PHI for purposes not related to treatment, payment or operations. Use of your PHI as part of the routine patient care in our practice is not required to be documented – for example, the doctor sharing information with the nurse; or the billing department using your information to file your insurance claim. All requests for an "accounting of disclosures" must state a time period, which may not be longer than six (6) years from the date of disclosure. The first list you request within a 12-month period is free of charge, but our practice may charge you for additional lists within the same 12-month period. Our practice will notify you of the costs involved with additional requests, and you may withdraw your request before you incur any costs. Right to a paper copy of this notice. You are entitled to receive a paper copy of our Notice. You may ask us to give you a copy of this Notice at any time. To obtain a paper copy of this Notice, contact the our staff at [email protected] Right to file a complaint. If you believe your privacy rights have been violated, you may file a complaint with our practice or with the Secretary of the Department of Health and Human Services by sending a letter to 200 Independence Avenue, S.W., Washington, D.C. 20201, or calling 1-877-696-6775.   Last Updated April 10,2020.